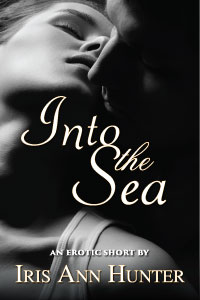 So…here it is!  My first offering…
INTO THE SEA
A quick hot read about a troubled young woman who has a random sexual encounter with a man in a nightclub.
Sometimes, you just need to be taken.
(This is a short story of 3,300 words)
FREE
This work may also be viewed on Literotica.
EXCERPT…
Awareness settles in and I feel someone behind me.  It is a man.  I can tell by the firmness of his body.  I am pressed into him, and he is pressed into the wall, for there is no more room.  We are all sardines packed tightly in a hot tin can.
He speaks to a friend nearby, shouting to be heard over the noise, the chaos.  I do not register what he says, only the beauty of his voice that sounds like torn satin, rough and smooth all at once.  It is mesmerizing.  I picture the man who would possess such a voice; dark hair, I think, and perhaps deeply brown eyes; long lashes too, and large hands.  He laughs at something his friend says.  It is a deep laugh, a hearty laugh…the laugh of someone who lives life fully.
The sea of bodies swell and a sudden wave crushes me against him.  His hands, indeed large, and strong, grab my waist to steady me.
"Are you alright?" he asks into my ear.
Again, that voice, this time intimate, this time soft.
"Yes," I say, not wanting to look back at him, not wanting to shatter the fantasy in my mind.  His hands are still on my waist, on the exposed skin that rests between my tank top and skirt.  I realize I will miss them when they are gone, but to my surprise, they remain.
Now a fever takes me and my breath comes faster.  It's been too long since I let a man touch me…too long since I've been willing, or even able to move on to another.
I can feel him now…feel his warmth behind me.  So close.  So very close.
I think at first I'm mistaken, but then I am sure—he grows hard against me.
***
Click here to read the entire story.
Help spread the word…