Hi my lovelies!  I have something for you to sweeten up your week…Starting today, and going through Sunday, Twisted Obsession is FREE on Amazon!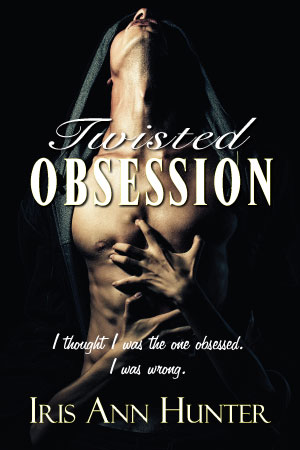 If you haven't had a chance to read this darkly tender tale, now's the time!  Meet Daniel…quiet, strong and so damn sexy…and Amelia…the delicate creature who gets caught up in Daniel's web.  Perfect for a little erotic bedtime story read beside the warmth of a fire, or by the glow of candlelight.   And don't forget the glass of wine!
FREE ON AMAZON HERE – JUST CLICK!
It was a random encounter I should've walked away from. I should've spared him, but I couldn't. There was something in the way Daniel looked at me, something in the way I could still feel the warmth of his skin long after his touch had left me. It was in that moment he sucked me in, making me forget the obsession that holds me captive. But once he discovers my secrets, he'll run. Yet he keeps inching closer, and I feel helpless to stop him.
In many ways, he reminds of Him…the man I love, the man I've been saving myself for.
But Daniel has secrets too–secrets that change everything.
(This is a novelette of roughly 16,700 words. It is a dark, tender read with BDSM elements. Intended for mature readers.)
*****
EXCERPT…
He studies me for a moment, then his hands move back onto my thighs, resting just over my knees. He moves his thumbs back and forth, stoking my pulse with every swipe. "I wish I could say I don't want your fear, Amelia…but I do. It does things to me. Every nervous twitch of yours, every time you shy away or take a shallow breath around me, it makes me hard. If you knew all the things running through my mind right now—all the disturbing ways I want to make you come—you'd probably be terrified."
I heat like lava when his words coil and echo inside my ears. Perhaps this would send some women running away, but all it does is send me running towards him. They're words that hit a spot deep inside me, sending my body into a tailspin.
Just like his words do.
I'm staring at my hands, taking in little gasps of air when he takes me by the wrist, and with a quick tug, I find myself on my knees, between his legs. His finger lifts my chin, bringing my eyes to his. "How brave do you feel now, Princess?"
"I—I'm not sure. But…" I try to turn away, but his grip keeps me in place.
"But what?" he prods.
I lick my lips, then swallow. "But…I don't mind being afraid…with you. I—I like it."
His pupils dilate before me, darkening his gaze. "Does it excite you?"
The only response I can manage is a slight, jerky nod against his hand.
He stares at me, then lets my chin go and takes in a deep breath, releasing it in a sigh. Something in the way he does it makes me wonder if he had hoped my answer would be different.
"Is that wrong?" I ask, my voice sounding small.
"No. It's not wrong."
"Then what is it? Why do you seem…disappointed?"
He blinks slowly. "I'm not disappointed, Princess. I'm concerned."
"Why?"
He leans down and takes my hands into his. "I tell you I like your fear. You tell me being afraid excites you. Where do you think that will lead us, hmm?"
I'm near breathless, feeling on the verge of some precipice that drops off into a shadow world of fantasy that for years has only existed in my mind…has only existed with someone else.
I open my eyes and look up into his, then offer the truth. "Someplace dark, I hope."