Happy Holidays lovelies!!
I don't know about you, but it's been one crazy year. Some ups and down for me, but definitely some really big changes. LIFE changes. GOOD changes. So many changes, I've been remarkably absent from sending these posts out, but I've been working to change that. To make a long story short, we sold our house and moved closer to the coast, where it's cooler.  But that's not the only reason we took this giant leap.  We also did it so we could use the equity earned to allow me to take some time off to chase my dream to be a writer.  After all, you only ride this life train once, right?  It took a good 4 to 5 months to go through the renovating and selling, and finding a new home, but we finally got settled in mid-August, and I've been writing my heart out on my novel ever since.  I had to take a couple weeks off recently when we were dealing with the massive Thomas Fire in Southern California, but that's another story.  Needless to say, after going through all the chaos of selling and moving, it feels soooo good to be able to wake up every day and do what I love.  Now I just have to turn the books out, so I can keep it this way! Okay…that's the LIFE changes.
Now for the BOOK news! Which I'm so excited to share.! First, my debut novel is currently with the editor and I'm hoping to release before the end of the year.  Yup…I know it's mid-December, and I haven't released a title, or set a release date, but I'm going to make it happen.  This book has been a good two years in the making, and with the Thomas fire, I wasn't sure I'd make it in time.  It's going to be close, but I'm determined to make my 2017 deadline! I'll be sending out updates as we go along, and I have a tantalizing book trailer to share with you too.
The other bit of BOOK news I have, is that a short story of mine, Room 253, was accepted into The Big Book of Submission, Vol 2, edited by Rachel Kramer Bussel. It comes OUT ON E-BOOK TODAY and is available in print January 9th.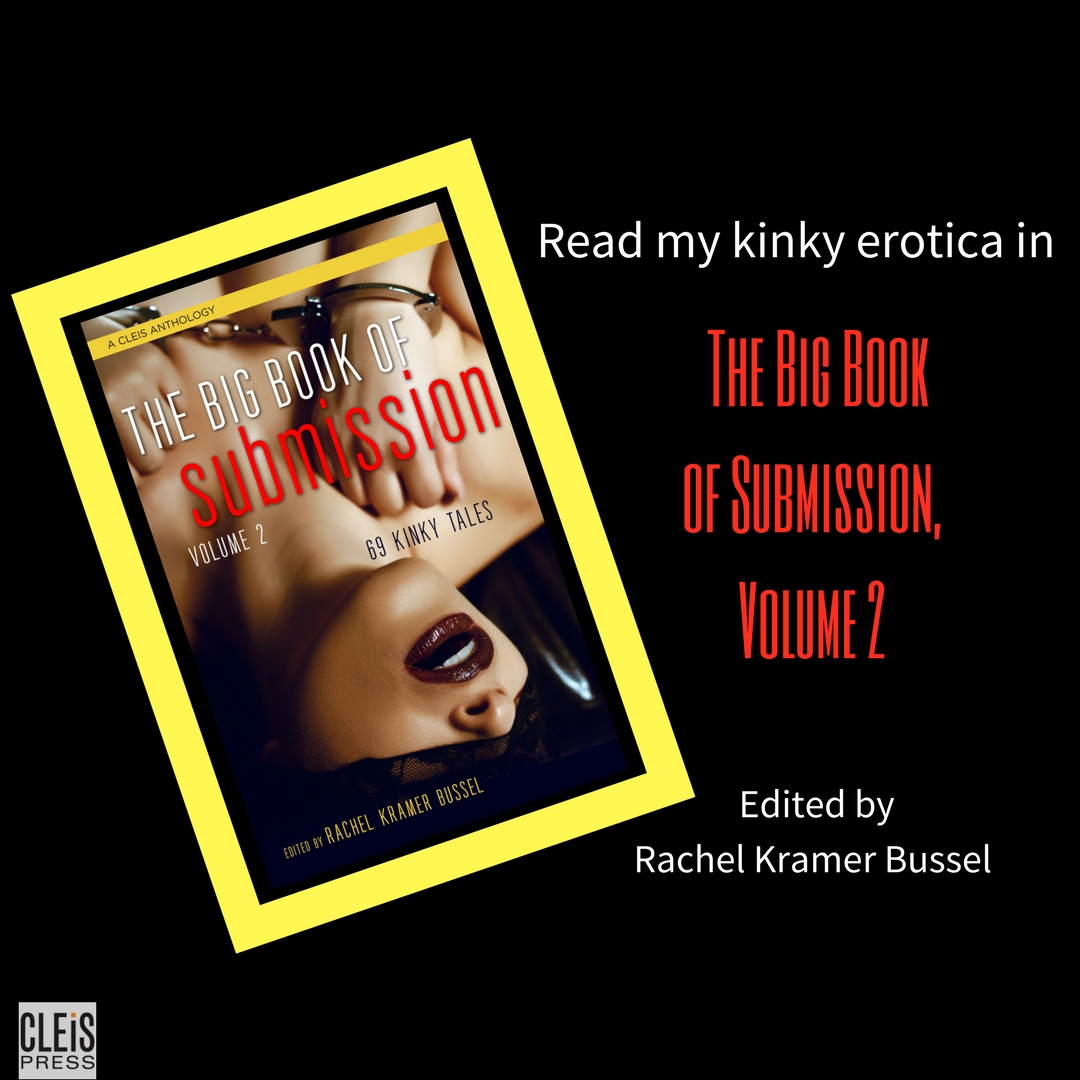 Here's an excerpt from my story: 
She heard the door open and close, followed by the sound of footfalls across the carpet. They stopped a short distance away.
She inhaled the air, seeking out the scent of her Master. A faint aroma welcomed her. It should've excited her, thrilled her, but it didn't. Instead, it terrified her, for one simple reason—it wasn't Him.
A small whimper left her lips.
"He said you were beautiful. He was right." The man's voice sliced through the air, cutting her deep. It was a compliment, but all she heard was confirmation that her owner had sent someone else in His place. Something He'd never done before. In that moment, the fear blossomed, only to fall away like a spent flower, replaced by something else. Anger.
"Who are you?" she demanded.
The man chuckled softly. "He also said you were a handful."
********
The book is available through the following retailers:
Amazon (universal links)
ebook: http://mybook.to/submissionbook2
print: http://mybook.to/submissionbook2print
Other buy links:
Nook: https://www.barnesandnoble.com/w/the-big-book-of-submission-volume-2-rachel-kramer-bussel/1127263782?ean=9781627782234
Google Play: https://play.google.com/store/books/details/Rachel_Kramer_Bussel_Big_Book_of_Submission_Volume?id=jI02DwAAQBAJ
iBooks: https://itunes.apple.com/us/book/big-book-of-submission-volume-2/id1288805259?mt=11
Kobo: https://www.kobo.com/us/en/ebook/big-book-of-submission-volume-2
***Through December 21, Cleis is running a Goodreads giveaway of the print edition (U.S. only) at Goodreads: https://www.goodreads.com/giveaway/show/269249-the-big-book-of-submission-volume-2
***Please share this post, and if you make a purchase, please consider leaving a review on Amazon or other retailers. They really do help. 😉
WELL…that's it for book news for now.  I'll be in touch as things get moving with the novel towards the end of the month.  Meanwhile, I hope your HOLIDAY season is filled with warmth and joy, and friends and family, and so much love! I'm so grateful you've chosen to follow me on this journey. Be reaching out soon!  💋 💋 💋