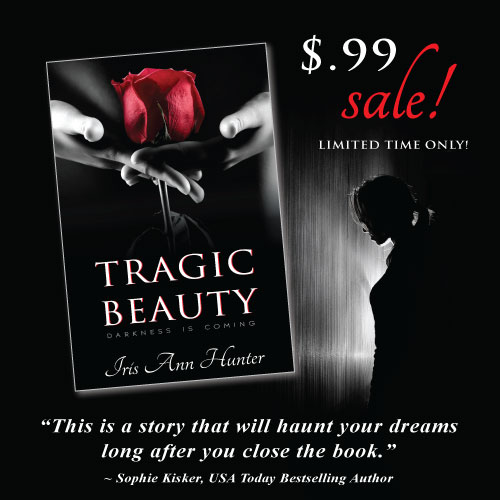 Hi Lovelies! I'm just sending you a little note to let you know Tragic Beauty is on sale for $.99 as of midnight last night!! My book was lucky enough to be accepted for a Featured Deal through BookBub, and this is the promotion running with it. So many of you have read and shown such love for Tragic, and I'm hoping you'll perhaps take this opportunity to share it with your friends while at this price…and if you haven't had a chance to read it, I hope you'll consider taking a chance on me! I'm so grateful to all of you who've helped make Tragic Beauty a #1 Amazon Bestseller!!! With all my heart, thank you!!
FREE w/Kindle Unlimited!
Amazon US: http://amzn.to/2n1DisU
Amazon CA: http://amzn.to/2n3lIEM
Amazon UK: http://amzn.to/2DZ1Tqe
Amazon AU: http://amzn.to/2HPoIhU
GOODREADS: https://www.goodreads.com/book/show/37908268-tragic-beauty
BOOK TRAILER: https://www.youtube.com/watch?v=SIqQz59AwUQ&t=2s
BLURB:
One beauty. Two beasts.
The one who owns her. And the one who wants her.
***
I was sixteen when I made the deal.
When I put my fate in the hands of Shayne McAllister, a man determined to break me.
A man with black eyes and a blacker heart, who's been obsessed with me since we were kids.
And now that my father has passed, he's coming to collect his debt.
But before I become his, I see a chance to make a choice for myself, and I take it.
I slip away, for one night.
One dark, stormy night that goes horribly wrong.
Until a stranger crosses my path.
An angry stranger, with a harsh voice and menacing eyes, who grants me one night.
One messed up, beautiful night, that changes everything, and spares no one.
Because the stranger wants more.
More than just one night.
He wants me.
What follows, is darkness.
A darkness where secrets will be revealed, blood will be shed, and sacrifices made.
My name is Ava, and this is my story.
(This is a very DARK, contemporary romance/thriller with scenes some will find disturbing. It is a story about love and obsession, about hope and despair, but most of all, it is about finding light through the darkness. For mature audiences only.)
***This is Book One of the BEAUTY & THE DARKNESS Trilogy***
"A sensational debut from Iris Hunter, a woman who clearly knows her way around a dark romance novel. Full of heat, raw grit, and tangible, intense characters, Tragic Beauty goes way beyond 5-stars for me. I can't wait to read more from this author!" ~ Anita Gray, Amazon Bestselling Author
"Tragic Beauty encompasses everything a dark romance should be. Iris Ann Hunter has written a gem of a pitch black story of strength and brutal sacrifice entwined in a thorny love story you won't soon forget. I could NOT put this book down!" ~ Gemma James, USA Today Bestselling Author