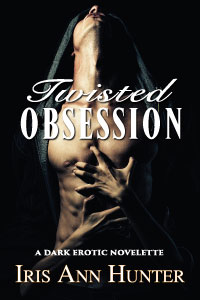 I thought I was the only one obsessed.  I was wrong.
Now available on Amazon. Click here!
****
It was a random encounter that I should've walked away from.  I should've spared him. I should've let him go.  But I couldn't.  I don't know how to explain it.  Daniel just sucked me in, made me forget the obsession that holds me captive.  If he only knew my secrets, he would run, he would leave me behind.  But he doesn't.  He won't.  Instead, he inches closer, until I'm laid out bare, revealing everything.  Because that's what he does to me.  That's his power, his pull, and he does it so effortlessly.  Merely a glance, or a graze of his touch and I'm weak all over.  In many ways, he reminds of him…the man I love, the man I've been saving myself for.  But Daniel has secrets, too…secrets that change everything.
(This is a novelette of roughly 16,700 words.  It is a dark, tender, twisted read with BDSM elements.  Intended for mature readers.)
*****
EXCERPT…
"Daniel," I whimper.
He tilts his head, then leans in, his lips brushing against mine.  So soft.  So intimate.  My eyes hood, watching his face, watching the light and dark merge into something almost peaceful, but at the same time pained.
A dark lock of hair falls across his forehead as he slants his mouth against mine and slips his tongue inside me.  It's gentle, tender, swirling along mine before he groans, then retreats, his eyes drifting down from my mouth to my breasts.
He stares at them, then lifts his hand and begins tracing the outline of my right nipple with his fingertip.  I gasp, watching my flesh pebble beneath his touch, beneath the fabric, feeling utterly helpless on his lap.  Then he pinches my flesh, hard, and I gasp.  When his eyes shift back to mine, they're dilated, almost black now.
A low throaty grumble oozes out of his throat and he shifts in the chair, pressing his hips upward.  I moan when I feel the hardness beneath me.
"Please," I whimper, the need so acute it hurts.
"I know, baby," he soothes, brushing his lips against my temple.  "I know."
I feel a rush of heat and adrenaline fill my body and flood my heart.  A moment later he stands, places me gently on my feet, then leads me to the other side of the desk.  He turns me around and begins undoing my wrists from behind my back.  It's only then that I notice what's attached to each of the two pillars.
"What are the chains for?"  I ask, a little breathless.
I feel his lips press against the back of my head.  "They're for you.  But then…you knew that already."