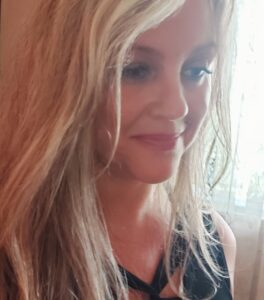 Iris Ann Hunter is a bestselling author of a darker kind of romance. A tortured romantic at heart, she writes a twisted, psychological blend of dark romance, erotica, and suspense. Her books have been called beautiful and depraved, and range from tender to pitch black. Dominance and submission is a common theme and taboo is always fair game.
Before chasing a dream to be a writer, Iris worked with horses, then as a graphic designer. After testing the waters with a few erotic short stories, she fell deeper in love with dark romance and wrote her first novel, Tragic Beauty, which became an Amazon bestseller. When she's not reading or writing, or wandering the dark recesses of her mind while questioning her sanity, you'll likely find her riding her horse, playing with her dog, or sipping a glass of red wine. Iris lives with her longtime lover in a seaside town along the Southern California coast.
She is currently at work on her next novel, Hunted Beauty, the second book in the Beauty & The Darkness Trilogy…to be released 2022.
Iris always loves hearing from readers! Email her at iris(@)irisannhunter.com
She can also be found on Facebook, Instagram, Bookbub and Goodreads(@irisannhunter).
Her books can be found on AMAZON at – amazon.com/author/irisannhunter