Hi Lovelies! Got a couple goodies for you!
Tragic Beauty is FREE today, as part of Steal That Book Promotions! There's lots of other great books available for free or at discounted prices, so be sure to check them out!!
Also…I'm  hard at work on Hunted Beauty, and the story is writing itself. I don't have a release date yet, but will announce as soon as I do. Scroll down below for a little teaser.
*****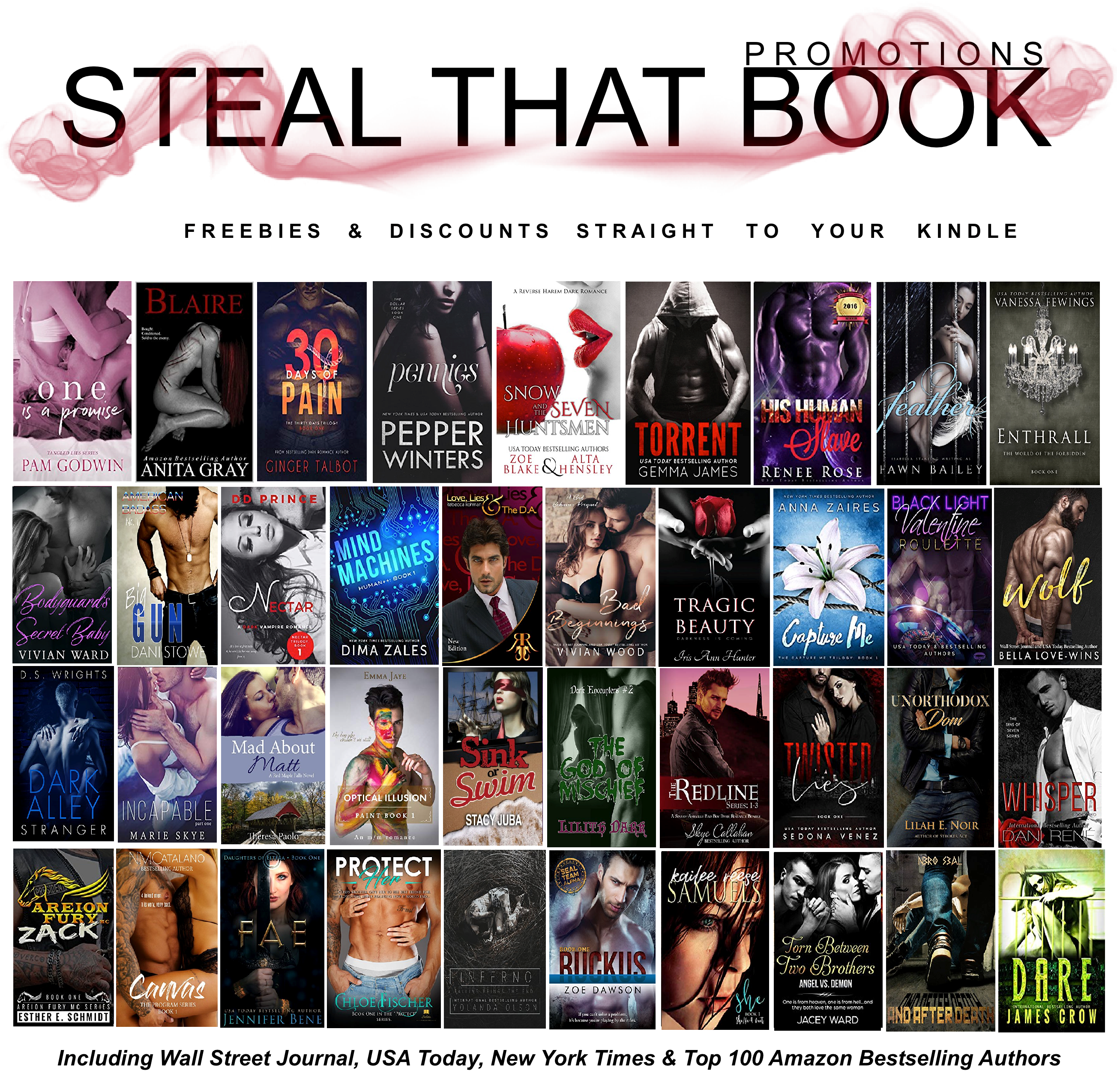 ★ Steal That Book #FREEBIES & #DISCOUNTS ★
For one day only, 38 authors are bringing you Amazon eBook freebies & discounts!
Click the link provided and you will be redirected to STEAL THAT BOOK's
website where you can download all your freebies and discounts:
STEAL THAT BOOK'S website: https://anitagrayauthor.wixsite.com/stealthatbook/1st-september-2018-freebies
★Including Wall Street Journal, New York Times, USA Today & Top 100 Amazon Bestsellers★
Jacey Ward ~ Kailee Reese Samuels ~ Zoe Dawson ~ Chloe Fischer ~ Yolanda Olson ~ Jennifer Bene ~ N.M. Catalano ~ Ginger Talbot ~ Esther E. Schmidt ~ Dani René ~ Lilah E. Noir ~ Sedona Venez ~ Gemma James ~ Skye Callahan ~ Lilith Dark ~ Zoe Blake ~ Stacy Juba ~ Pepper Winters ~ Emma Jaye ~ Pam Godwin ~ Theresa Paolo ~ Marie Skye ~ Renee Rose ~ Fawn Bailey ~ D.S. Wrights ~ James Crow ~ Vivian Ward ~ Anita Gray ~ Dani Stowe ~ Vivian Wood ~ Nero Seal ~ Summer Graystone ~ DD Prince ~ Anna Zaires ~ Rebecca Rohman ~ Vanessa Fewings ~ Livia Grant ~Iris Ann Hunter
*********
HUNTED BEAUTY Teaser (unedited and subject to change)
Ava-
I wake with a gasp to darkness and pain. A sharp, stabbing pain. I'm not talking about the burning, cramping ache between my legs, but the burning, searing pain that's devouring my heart.
I betrayed him, in the worst possible way.
I cheated on him. I wasn't with him last night, I was with Shayne.
My body wants to cave in on itself, and I have to bite the inside of my cheek to keep from crying. I don't want to wake Gavin. I can feel him behind me, hear his slow breaths.
I look over at the clock. It's a little past three.
The room is dark except for the bits of moonlight sneaking in through the window. We forgot to close the drapes.
Quietly, I slide from under Gavin's arm and sit on the edge of the bed. When I close my eyes, I see the nightmare…or I should say, hear it. He's calling for me. Again.
Avaaaa!
Avaaaaaa!
It feels so real, I think I hear him outside the window. His tortured voice echoes in my head, so loudly, I press my hands over my ears to make it stop. But it doesn't stop, it only grows louder. I don't know how to escape it, so I stand, and feel the aftermath of last night. My body aches…it aches in a way it hasn't for a while now, but I'm grateful for it. It helps me cope with the other pain inside me. My feet move, one in front of the other, but I don't know where I'm going. I don't know what I'm doing.
I realize I'm standing in the middle of the room. I think I've been standing here for a while, but I can't be sure. Everything feels…off. It feels like I'm back in that cell. That dark, grey cell. Maybe it's the way my body feels sore, as though I've just been through another session.
Session.
I haven't even thought of that word in a while. Maybe because I haven't felt like this in a while.
My eyes drift to the closet, just a few steps to my left. It calls to me, louder than it ever has. I want that dark, quiet place. The one where I can just slip away, hide myself amid the shadows and disappear, like I did last night. I walk to the closet and put my hand on the closed door and rest my forehead against the hard wood. I can almost feel the pulse of darkness, speaking to me in whispers. It taunts me. It teases me. I want so badly to turn the knob and let that blackness suck me back into its sweet embrace again. But that would only hurt Gavin. I've hurt him enough.
But I don't know where to go, what to do.
When you wake, shower and clean up good for next time.
I close my eyes, hearing his words like I'm back in that cell. I turn and stare at the bathroom, then let my eyes drift to Gavin, still sleeping.
Only, he's not sleeping. He's lying there, quietly, watching me. I get the sense he's been watching me for a while.
Our eyes connect, and in that moment, I see the pain. But I see more than just the pain. I see the heartache and conflict and darkness…it all burns amid the dark green, like a storm howling through a dense forest. I turn away, unable to face him, and disappear into the bathroom.
The shower is hot, but not so hot as yesterday. I've got a new pain to get me by for now. The pain between my legs. I stand under the stream, and don't realize I've taken the razor in my hand, until I'm staring down at the blade.
What are you going to do for me?
Shave.
The razor shakes in my grip as my eyes shift to my flesh. I'm supposed to shave. I'm supposed to be bare for him down there. Completely bare. That's how he likes me. But Gavin told me not to, and I agreed. But I didn't think it would be so hard to do as he said.
I keep staring, and keep staring, when a large hand appears and gently takes the razor from me. Gavin must've slipped into the shower with me. He's behind me, his chest grazing my back.
I watch him place the razor on the tile ledge and grab the soap. Then he's washing me, slowly, tenderly. I don't deserve this.
My eyelids fall, and my body stands helpless.
"Punish me." I wonder if he heard my barely spoken plea over the shower, but by the way he takes in a deep breath behind me, I know he did.
But his hands don't stop. They just keep moving, slow and steady, caring for me when all I deserve is scorn.
"Please," I beg.
He reaches around and slides his soapy hands down my stomach and between my legs. He's being so careful, so tender.
The scruff along his jaw grates against my skin when he places a kiss on my cheek. "I can't," he whispers.
"Why not?"
"Because…I'm afraid I won't be able to stop."
*****
Have a great Labor Day weekend friends!!