Hey friends! Hope you all are well and safe during these crazy times. I'm reaching out as I recently posted a question in my FB group, asking readers if they wanted to be taunted with teasers of Haunted Beauty, OR if they considered that cruel and unusual punishment and preferred to wait for the release…and the vast majority responded with a resounding TEASE ME! So, in that spirit, I'm offering a sneak peek of Haunted Beauty as a thank you for your enduring patience. I still don't have a release date yet, but I'm inching my way closer. As for the sneak peek, I'm offering the prologue. I will warn you though…it's dark, brutal, and packs an emotional punch. IF YOU DON'T WANT ANY SPOILERS then you can skip down to the bottom, where there's a book sale happening. IF YOU'RE GAME AND WANT THE TEASE, then brace yourself…and continue reading.
---
Haunted Beauty sneak peek…
PROLOGUE
(unedited, subject to change, copyright, please don't share)
SHAYNE

I stagger, ignoring the pain in my side, ignoring the weakness. One bullet can't stop me. Nothing can fucking stop me. Smoke burns my eyes, but I thrust the gun out and line it up. The fucker is in my sights. The one who ruined everything. The one who ruined us. Finally…he's mine. Through the dark, I see his movie star face—a face like I used to have—and I see him bring the gun up too.

But I'm quicker.

Movement catches my eye, and I see Ava stumbling towards us. I know what she's doing. But she can't save him. Not this time. She's not fast enough. I'm about to squeeze the trigger, when something barrels into me, hard and fast.

"What the—!"

I'm cutoff by the jolt of the gun in my hand, and flying to the ground, with Red on top of me. But not before I see that rogue bullet tear through the only thing on this earth I live for.

She falls as I fall, and pure rage rips through every part of me.

Fucking Red!

"Go on! Get her out of here. I got this! Go on!"

His words send a roar tearing from my throat.

I try to throw him off me so I can get to her, but he won't stop.

We roll and roll, and I don't understand. I'm so much stronger than him, but I can't seem to get the upper hand.

Because you've been shot.

I feel the burn of betrayal.

Not Red.

Anyone but Red.

Our arms tangle as we thrash, and I'm about to break free and tear after Ava, when I feel something else–the slice of a knife, going deep in my thigh. A weird heat floats through me and I stumble back to the ground.

"This ends," Red chokes out. "I love you, but this ends."

His words strike me, deep in the chest. No one's ever said they loved me. Not once. The ache splices me in two, and a desperate roar leaves me as I keep trying to pry myself from Red's grip. I see Ava in his arms. His fucking arms, as he carries my life away. She's limp, her arms hanging out, her head hanging back…like she's dying.

Or maybe she's already dead.

"Ava!!!!!!!" I call out. "AVAAA!!!!!" I keep calling for her as a new strength finds me, and I'm able to hurl Red off me, but he's back on me so quick—his arms latched tight around my ankles. I feel another cut of a blade, this time in my calf, and I drop back to the ground. We roll and roll, the adrenaline won't let me stop, Ava won't let me stop. I'm able to grab a wrist and shake a knife free. I ache to pick it up and thrust it into his chest, but can't bring myself to do it. Not Red. So we keep rolling, keep wrestling, and I know he's still got a knife in his other hand, but I land a punch, then another. Suddenly, Red goes still beneath me.

I stagger to my feet, stumbling after Ava. I only make it a few steps before blood loss has me falling to the ground. "Ava!!!!" I call out. "AVAAAA!!!!!"

I crawl after her. I can't stop. I won't let myself stop. Through the pain and darkness, I hear my name through a choked gurgle. I can't help but turn back to see blood coming up from Red's mouth. I stare at him. My punches weren't strong enough for that. I look again for Ava, but she's gone.

"Avaaa!!!!!"

I look back to Red, at his limp body, a new hollowness taking over my chest.

I stagger to his side.

His skin is deathly pale, his brown eyes glazed.

"You fucker!" I shout at him, but it comes out cracked. I crouch over him, not understanding what's wrong with him, until I see the knife, lodged up and into his side. He must've rolled onto it. A weird sound leaves my chest.

Anyone else. Anyone else I would rip their fucking bloody heart from their chest and eat it raw for what he's done. But instead, I grip his body and yank out the knife, then cover the wound with my hand. He sputters up more blood, his life pulsing against my hand, hot and growing weaker. A memory slices me open…a memory of heat and blood…

"Sean! Sean!" I cry.

He's not moving. Why isn't he moving? I told him not to play with Daddy's gun. We're in so much trouble. I stare at the gun next to him on the mattress, my ears still ringing from the loud pop and his last words. "If you're smart, you'll pick up the gun after me and do the same."

I don't understand.

I don't understand.

It's probably a game—he does those to make me smile sometimes—but I don't like this game. It scares me.

I shake his body, his head so messy. "Come on. Don't play around. It's okay. I'm not mad at you. I know you don't want to hurt me. Promises, 'kay?"

Promises.

That word always gets his attention, always gets his dark eyes softening, but not this time. Maybe he's mad at me. I cried so loud after what Daddy made us do. It hurt me so bad. But I think it hurt Sean worse. Normally he talks to me, to help me fall asleep, but he was quiet last night. Except I heard him later, when he thought I was sleeping.

He was crying.

He was crying so hard.

I cry louder.

Daddy's going to hear, and he's going to be so mad. He doesn't like it when we cry.

Sean's eyes are open, staring at me. I stare back, hoping he'll blink. I always blink first when we play this game, but sometimes he blinks on purpose, letting me win. But he's not blinking. When my eyes burn, I can't help but blink, more tears falling out.

I nudge him again. "Sean?"

My voice sounds small, weak. Daddy doesn't like that either. I look around and see parts of Sean's head on the mattress. Maybe if I put him back together, he'll work again and be able to blink. I scoot over and pick up some pieces. They're hot and bloody against my hands. I scoop them back in his head, trying to be quick, because I can hear footsteps upstairs, coming hard and fast.

"He's coming, Sean!" I shove his head back together best I can, then face him again and give him another shake.

"Blink," I whine. "Blink!"

Footsteps stop at the door.

"Sean!" I grip his face, my hands so sticky and bloody. "Wake up," I cry.
I hear the lock and shake him harder, making some of his head fall back out.

No!!

I try to scoop him back together but the door blasts open. My hands shake so hard, but I can't stop. But when Sean doesn't flinch at the sound of Daddy's voice, something in me knows he's not here anymore. I stop and look at my brother, my best friend, wondering where he went. When I feel my daddy behind me, feel his large hand on my shoulder and hear him say in his deep scary voice, "Looks like it's just you and me now, kid,", I wonder if I can go there too.

"Sh—Shayne."

The sound of Red gasping my name has me blinking through the memory, as a new pain opens me up. I look down to see my hands pressed against his wound, but the blood is still coming. I feel that eight-year-old boy howl inside me, and with a groan, I try to shove the blood back in. But the more I try, the more it bleeds.

"Shayne."

I don't want to look at him. But he says my name again, this time in a gasping whisper, and I look at him then—at the tears flooding his eyes, the ghost that's taking over his skin. "It's time to let her go," he chokes, blood spurting up over his lips. "You need to set her free."

"Shut the fuck up!" I shout. "Just—" My voice breaks and a new gush of blood seeps from his body and between my fingers. I feel my head going light, from my own blood loss, but I press both hands against him tighter. I want to call for help, but there's no one to call. There's never been anyone to call.

Only Red.

I don't want to meet his dying gaze, but I do. His brown eyes fade as he blinks, slowly, like he's remembering. Remembering the good times. We didn't find many, but we managed to find a few. It was always me and him, and our fucked-up lives…and Ava, the girl we both lived for.

Her name has me howling for her again, as loud as my lungs can carry it, over and over. I can't bring myself to stop until something warm on my arm has me looking down. Red grips my wrist, understanding in his eyes. He loves her too. Not the way I do, but he loves her too.

That's why he saved her.

A new hurt has something stinging the backs of my eyes…something old and long forgotten.

A small smile tugs at his lips. "I'm not…a coward…anymore. I'm…a…"

He never finishes that sentence.

A rip roaring ache blasts through my chest and takes over the night. Only when my throat closes up, and I choke on my one and only friend's death, do I hear more sirens closing in. Smoke is everywhere, fire blazing through the hills.

I look down at Red one last time and use my shaky hand to close his eyes, knowing full well they won't blink again. "Bastard," I hiss, then stumble to my feet. I've lost blood…lost her…lost him…lost everything.

I don't recognize my voice as I stagger, loud agonizing roars that don't belong in this world.

I don't belong in this world.

But I can't leave her.

I won't.

I can't live without her, and I can't die without her.

All I know is I need her.

I need her.
I need her.
I need her.

I can't fucking breathe without her.

But she's dead.

You killed her.

She's not dead! I know she's not. I wouldn't be alive if she was. I would know it. I would feel it. And that fucker wouldn't have been running off with her if she was.

I make it into the house and drag myself across walls. I already have a bag in the truck that's been there since all this shit started, a plan in place too, knowing I might need to get away, and fast. But there's something in the house I need. Something I can't leave here without.

I stumble through the door and into the room…her room…our room. Our hell, that I tore apart. I fall twice before making it to the bathroom. I see it there, on the counter. I grab it, and clutch it in my bloody hand. On the way out, something else catches my eye and I snatch that too. I fall again on the way to the office, where I grab my laptop.

Minutes later, I'm yanking myself into the truck and backing out the garage. I see the flash of more sirens blasting by and down to the barn. I can't go down the road though, as more trucks keep coming. So I head right, and take the back road. The dually swerves and slides over the dirt as I try to keep my focus. I'm fading. I'm fucking fading.

I get down the road a bit, far from sight, and pull over to a skidding stop, then yank the bag from the back. My hands shake, and my breathing drags, but I dig until I find the medical kit, and after a couple minutes, I get the bleeding stopped…for now. I ignore the fear creeping in by the look of the wounds, and instead keep her front and center. I won't die without her. I can't. I won't. The devil can have me when I'm ready, and not a fucking second sooner. This isn't the end. It's only the beginning.

I'm coming for you, Ava.

I'm coming.

---

On a lighter note…Book Sale!
I like to put Tragic Beauty on sale from time to time, and with the state of affairs these days, the strain so many people are facing, I figured it was a good time for those who might be trying to pinch their pennies but still need their book time. So starting today, Tragic is only $0.99 for the next week on Amazon. For today though, you can get it through the link below, along with all these other amazing titles. Who doesn't love a book sale!?!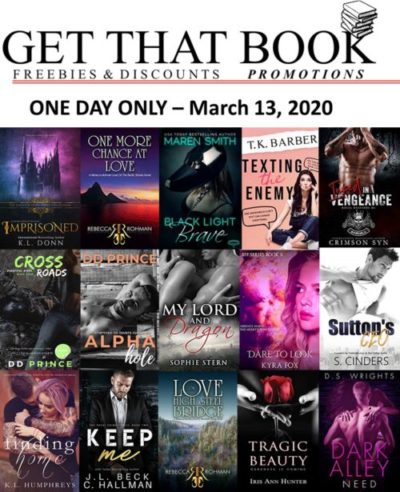 ★ Get That Book #FREEBIES & #DISCOUNTS ★
For one day only, an incredible group of authors are bringing you Amazon new releases, freebies and discounts! Click the link provided and you will be redirected to GET THAT BOOK's website where you can download all your freebies and discounts: https://www.anitagrayauthor.com/13-mar-2020-deals
*Participating authors are responsible for their freebies & discounts*
*Free and discounted at the time of posting*
*Always check the Amazon page before downloading*
---
Thanks for reading everyone! I hope you enjoyed the sneak peek of Haunted and perhaps found your next book read. Please remember to take care of yourself through all this madness. Many of us are better at taking care of others, but don't always give ourselves the same attention. Lots of love to you friends. 🙂