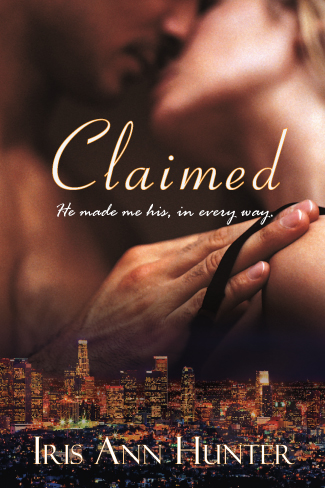 Available in:

Kindle

Published:

July 2, 2016
Buy on Amazon
Prequel to Lovely Little Stray
*****
He made me his, in every way.
This is reckless, I know.  Dangerous.  Perhaps even stupid.  But I can't spend another night alone.  I won't.  There's something out there waiting for me, I know it.  The problem is I'm not sure who or what it is I'm searching for.
All I know is I'm tired of hiding, tired of being afraid.  Only I've kept myself sheltered for too long.  Because now the touch of a man is not just something I want, it's something I need.
And need makes you do things…things you might otherwise not do.
(This book was originally written as a standalone short, but due to popular demand, it is being extended. So please consider this the prequel to Lovely Little Stray (a full length novel due out in 2017). The story has been updated with minor edits and an epilogue that leads into the next book. Claimed is a sexy, sultry novelette of roughly 12,000 words that contains strong/rough elements of dominance and submission. This is also my debut offering as an author.)
*****
Praise for Claimed…
– Great Freshman entrance into the erotic D/s world. Straight to the point with a bit of SM kink, a night of new experiences for the heroine and new reactions for her Dom. Refreshing to find a writer with a command of language, nuance and mood.
– Was a great short story! Written well for a first book, keeps you on edge the entire time. Her understanding of the lifestyle shows in her writting. Can't wait to follow along her future stories, and maybe a sequel.
– I could not put it down. Intrigued to the end and left me wanting more! I will absolutely be reading more of Iris Ann Hunter books!
*****
EXCERPT…
He sits alone, reclined in his chair, legs crossed, one hand holding the cell phone he speaks into, while the other casually swirls the snifter on the table, as though he's in no particular hurry, as though time will wait for him.  Despite the shadows that surround him, I can see that he's older…at least older than me, thirties perhaps, and striking, with salt and pepper hair and glowing ice-blue eyes.  And while the three-piece suit is a gleaming grey and finely cut, offering the promise of a gentleman, there's something about him that doesn't seem gentle at all.  Maybe it's the leisurely repose, the way his languid movements seem belied by some predatory instinct that I find myself reminded of a lion lounging in the grass.
I can't help but wonder who he might be talking to; a wife perhaps, or maybe a lover.  Yet the way his mouth moves, the way he appears almost bored, instinct tells me it is not a woman, at least not a woman he is intimate with, but a friend perhaps, or a business colleague.
After a moment, he sets the phone down, gives the snifter a final swirl, then brings the glass to his lips, and as he tilts his head back, his eyes fall upon me.
It's as though someone has just tossed a warm blanket around me on a chilly day.
Turn away, I think, but I can't.
I can only watch, helpless, as the glass hovers at his lips while his penetrating gaze remains locked on me, and in that moment, everything else fades.  It is just the two of us, until it isn't.
"Hey gorgeous.  Can I buy you a drink?"
I tear my eyes away and glance to my right, where a young man with a cocky smile and puffy face hovers next to me, his breath a bit too heavy.
"No, thank you," I reply quickly.
Undeterred, the man starts talking something about how he's never seen me before as he's sure he would remember, but I ignore him and glance back to the suit.  A strange feeling of loss sinks heavy into my body.
The table is empty.
I turn back to my drink in a daze.
Suddenly, a warm hand falls upon my thigh, slipping just under the hem of my little black dress.  I gasp and turn, only to see a shoulder clad in a fine grey fabric.  A five o'clock shadow grazes my cheek and a man whispers into my ear, "I'm in the hotel next door.  Penthouse."
His voice is warm and smooth, like the expensive cognac on his breath.  His subtle cologne drifts around me, hypnotic and seeping into my pours until I can taste him on my tongue.  With a soft caress, his hand leaves my thigh and suddenly he's gone, the only evidence he ever existed is the closing door and the lonely snifter left behind on the empty table.
A whisper of adrenaline begins a slow, seductive crawl through my body, coaxing a tingling sensation into my limbs and everything in between.
The man next to me has fallen silent, yet when I glance over, he is still watching me, but perhaps his smile is a little less cocky.
With a polite nod, I excuse myself from the bar and go to the ladies room.
In the mirror, I see the reflection of a young woman I recognize but feel as though I barely know.  The china doll face and honey blond mane appear familiar, but the mystery rests in the wide hazel eyes gazing back at me.  They seem filled with a hunger that reminds me of a wild animal that has been too long without food.  Such a thing is bound to do things it should not do…and go where it should not go.
***